Generous words and other warm fuzzies
January 18, 2018
I believe it was Mark Twain, master of the literary one-liner and the quotable quote, who said that he could live for a whole month on one compliment. My friends, I know exactly what he means! Your interest in my new Time project and your generous words have boosted my energy and my lifted my morale. Thank you!
When I'm alone at my desk day after day, following the trail of an idea, refining my craft or concocting a plan, I simply cannot forget how important it is to have an audience. Especially one as generous as you are! Over the last two weeks you've shared your enthusiasm with me online and offline, through comments, clicks, questions, likes and text messages. It has encouraged me deeply.
One kind friend even texted me from Japan with photos of the Giant Ghibli Clock in Tokyo that she and her family visited recently. Designed by animé film director, Hayao Miyazaki, it's definitely one of a kind—a sort of steampunk-themed cuckoo clock that's made of copper and steel, and is three storeys high! Thanks, Ali! (See man, bottom right,  to gauge clock's true size.)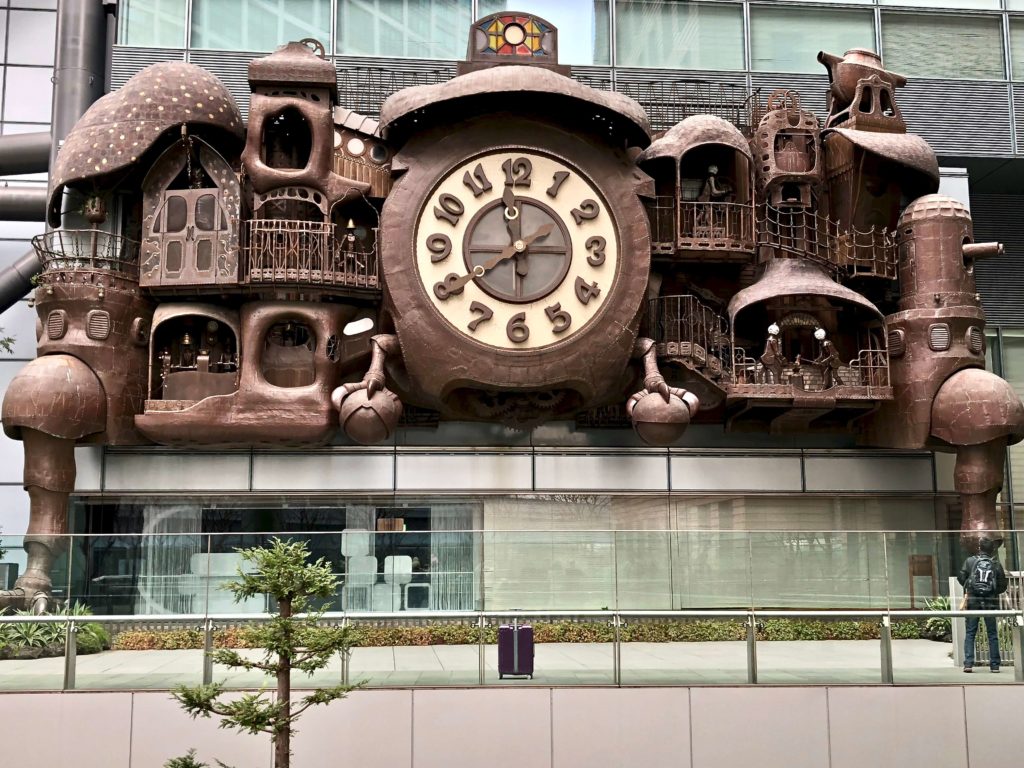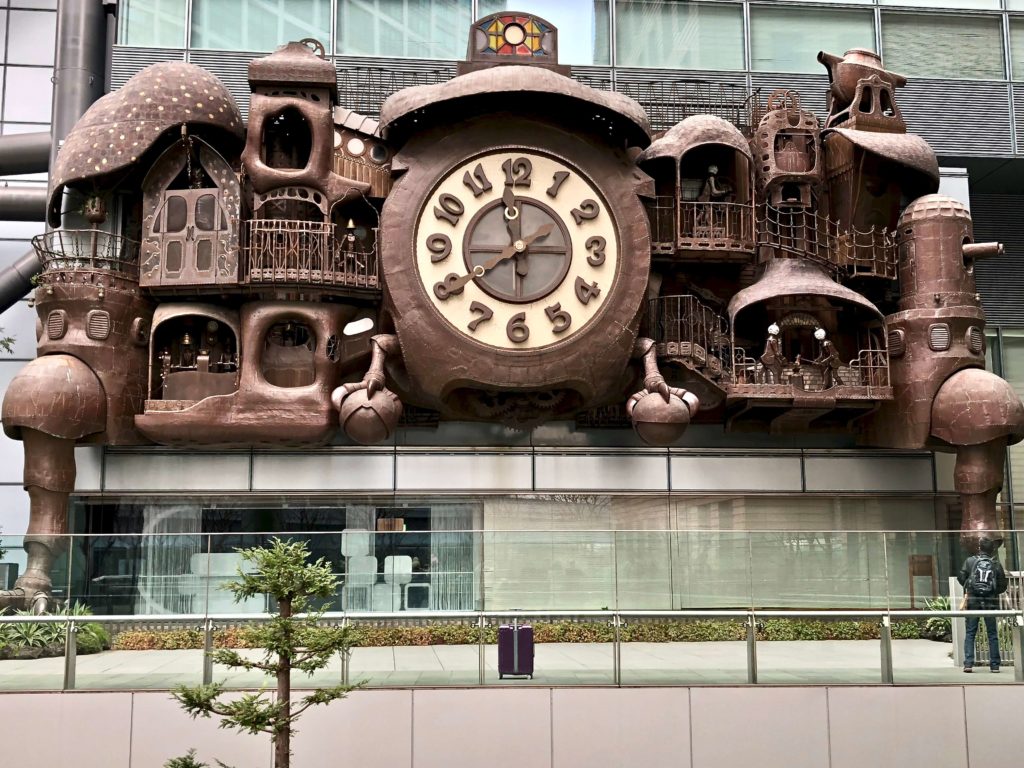 All of this encouragement has reminded me of the transforming power of generous words and thoughtful deeds. In particular, I've remembered the words an author wrote in my newly-purchased copy of his book, way back in 2008.
Mark Tredinnick—Australian author, poet and writing teacher—had just spent a whole weekend giving an extended masterclass to a bunch of writers. And I was privileged to participate. Like a sponge I soaked up as much wisdom as I could from Mark's talks and his insights as our work was critiqued. I learned a lot from the other writers too.
But by the end of it all, I had reached the end of my resources. After two intense days of wall-to-wall people, my introverted self was exhausted. And then, after my own work was critiqued near the end of the final day, I was ready to give up on ever being a writer.
It wasn't that anyone had been unkind or unfair. It was just that I'd made an error of judgement. I had made the rookie mistake of submitting for critique the first draft of a piece I'd written—something you should never, ever, ever do.
Many writers will tell you that their first drafts are terrible. In fact, most wouldn't even bother to keep them, except perhaps as a reminder of how not to write! These offending drafts are usually dispatched to the document graveyard (also known as the trash) and the writer begins again.
It can take an entire first draft to get out of your system all the clunky cliches, convoluted clauses and ponderous prose that shout 'Pick me, pick me' the loudest. It seems almost unavoidable to go through this dispiriting process, writing and throwing out the garbage before you can even begin to find fresh ways to arrange words on a page. All this effort, just to write what you really want to write.
So when I approached Mark for an autograph, feeling utterly demoralised and a little overwrought, I asked him to tell me honestly if he thought I had it in me to be a writer. Because right then I truly doubted it, and I was ready to abandon the whole idea.
But here's what he wrote:
For Lee, who has it in her, with encouragement, Mark.
Only ten words, but how I hung on to them! And how often I've returned to them in the years since, especially when confidence has been hard to come by. My copy of The Little Red Writing Book, where he penned those words, has become a treasured and inspirational volume in my bookcase, though more often than not you'll find it lying open on my desk, bristling with bookmarks.
But did I read too much into his words? How could I be so sure that he meant what he wrote?
I took Mark's words to heart partly because as a writer and teacher he commanded my respect. But more than that, I knew Mark had read something else I'd written—something far more polished that I'd submitted as part of my application to attend the masterclass. He knew that I could do better, much better. He'd read it himself and so his reassuring words carried weight and significance.
And your words of affirmation have had the same effect. They have heft and meaning because I know many of you as friends and you actually read what I write. So I can trust that your interest is genuine and heartfelt. And the fact that you take time to encourage me—even when there are so many other things vying for your attention—truly strengthens my resolve to keep going.
It seems to me that truth, wisdom and love give words their transformative life-giving power. Whether it's an honest rebuke, some perceptive feedback or the unstinting affirmation of a friend, such words give spark and courage to the one who receives them. Proverbs 16:24 puts it far more eloquently:
Gracious words are a honeycomb, sweet to the soul and healing to the bones.
Words of healing grace and acts of ordinary kindness really stand out in a world that seems more fractious and polarised by the day, where words are often used as weapons and compassion is in short supply. The contrast is striking, and Proverbs 12:18 concurs:
The words of the reckless pierce like swords, but the tongue of the wise brings healing.
It's said that writers need to be thin-skinned in order to absorb and understand the world around them. It's also said that writers need to have tough hides to protect them from the criticism that will inevitably come their way! But no matter how impossible this combination is, like Mark Twain, I know the power of a kindly chosen word to keep me going, even when the going is tough.
As I wind up this extended homage to generosity, sincerity and friendship, it seems right to give Mark Tredinnick the final say. And here he is, writing about a few of his (and one of my) favourite things:
"Old watches are my weakness. Old watches and old fountain pens. Okay, old watches, old pens, books of any age and cowboy boots. But that's it. And most of all it's watches. You can understand the pen thing: I'm a writer. But watches? Time—what it is, how it felt to other people, why it goes so fast, what it does to memory and perspective, how to handle it in a piece of work—time is the great mystery a writer grapples with. This one, anyway. So a timepiece, in which the mystery is caught, ordered and beautifully expressed, is a comforting thing to wear. And when a deadline looms as it always does, I want to be able to find out in the most beautiful way just how little time I've got to go." (The Little Red Writing Book, p.109)
Featured image by Forgiven Photography | Lightstock.com